Genèveroule is stakeholder of the projet « Espace Tourbillon »,
formidable space for collaboration between nine social enterprises in the canton in an industrial incubator in Plan-les-Ouates.
Faced with the same challenges, several social enterprises in Geneva share the same idea: to come together in the same place to promote the sharing of resources and skills, while preserving their own identities. Their demands for sustainable development and common needs encourage them to build a future together.
The opportunity arises with the Espace Tourbillon project, consisting of five buildings in the industrial zone of Plan-les-Ouates. Two buildings have been allocated to nine social enterprises which, together with the Fondation Immobilière pour le Développement des Entreprises Sociales (FIDES), are committed to a collaborative and stimulating cohabitation.
The administration, the career-counseling service and the repair workshop of Genèveroule have moved to the Espace Tourbillon in October 2021. This move allows us to develop inter-institutional synergies, to further professionalise our services and to consolidate our commitment to a caring, responsible and innovative society.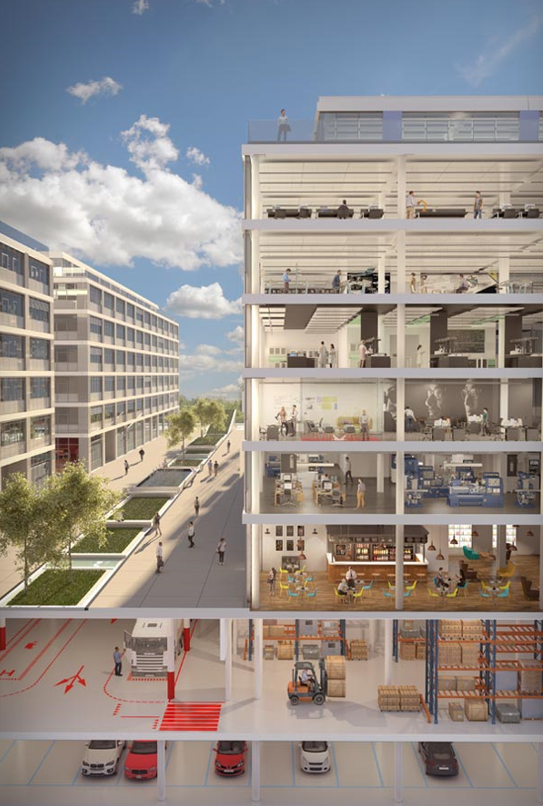 Valuing collective intelligence, creating new circuits, inventing solutions: the Espace Tourbillon is a resolutely innovative project. Its strength lies in the emergence of a common vision, based on values shared by all stakeholders and set out in a Charter (pdf).
The position of social enterprises is consolidated in the face of the challenges that await them on a collective level, so as to enhance and perpetuate their specific missions. In return, they are enriched by their experiences to become a laboratory for social innovation.
1 underground logistics station